Prime Minister Boris Johnson has said "we must act" to avoid another lockdown as virus cases rise in England.
He set out a new "rule of six", restricting gatherings to a maximum of six people, enforced by police able to issue fines or make arrests.
Mr Johnson also outlined a "moonshot" plan to control the virus with mass testing, possibly by next spring.
It comes as the UK reported another 2,659 coronavirus cases, the fourth day running of over 2,000 reported cases.
"I want to be absolutely clear, these measures are not another national lockdown. The whole point of them is to avoid a second national lockdown," Mr Johnson said in the first Downing Street coronavirus briefing since July.
He added "it breaks my heart to have to insist on these restrictions".
In the last week, cases have risen from 12.5 infections per 100,000 people to 19.7 per 100,000 across the UK.
Coronavirus was more prevalent among young people, with 54 cases per 100,000 people in the 19 to 21-year-old age group.
Mr Johnson also announced that:
Venues such as pubs and restaurants will be legally required to request contact details of everyone visiting, hold it for 21 days and provide it to NHS Test and Trace. They face fines of £1,000 if they fail to comply
Business opening hours could be restricted across the whole nation if cases continue to rise. But initially the measure will be limited to local lockdown areas such as Bolton, where venues must close between 22:00 and 05:00
"Covid-secure marshals" will be introduced to help ensure social distancing in town and city centres
The passenger locator form, filled out by travellers arriving in the UK to enforce quarantine rules, will be simplified and Border Force will increase enforcement
Plans to try out larger audiences in venues later this month will be revised, and the government is reviewing its plan to allow spectators back into sports stadiums from 1 October
Mr Johnson said the rules had "become quite complicated and confusing" and the government was "simplifying and strengthening" them after feedback from police and the public.
But Labour leader Sir Keir Starmer said the new rules on gatherings were a reflection that "poor communications were a large part of the problem" with the spread of the virus.
Sir Keir said the government also needed to improve testing, which was "all over the place", following reports that some people have been unable to book tests.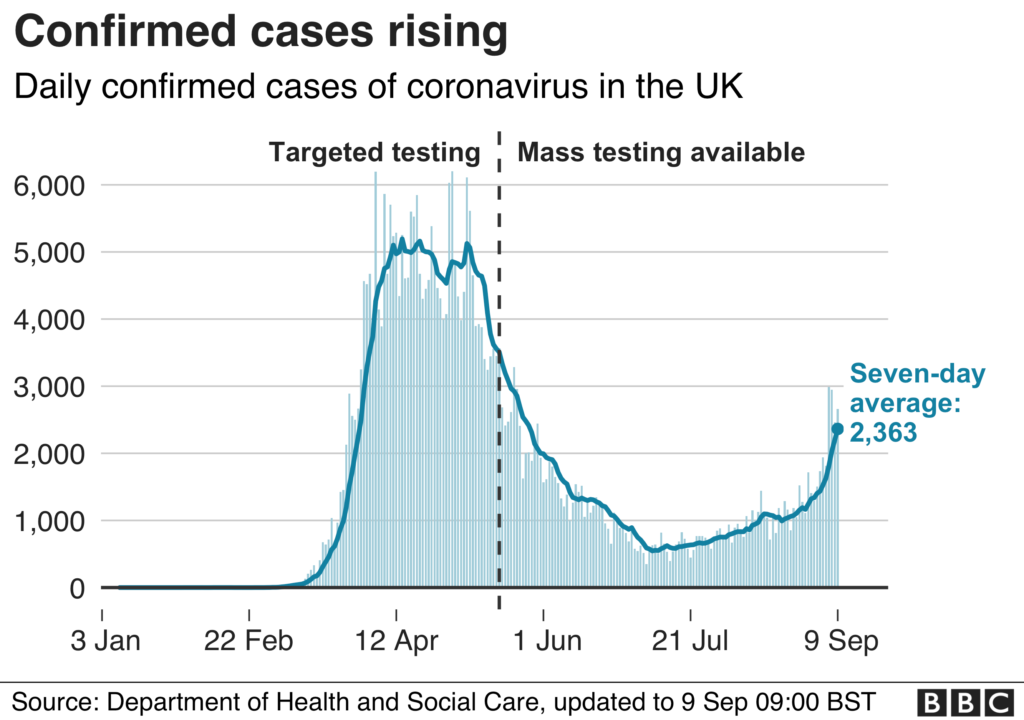 The prime minister said the government was "working hard" to increase testing capacity to 500,000 tests a day by the end of October, but urged people only to book a test if they had coronavirus symptoms.
He said they also want to use new types of test "in the near future" to identify people who do not have coronavirus and are not infectious so they can live life "in a more normal way".
He said these swab or saliva tests could be turned around in 90 or even 20 minutes, with millions processed each day.
However, BBC health correspondent Nick Triggle said such tests were still at the piloting stage, and so were unlikely to be manufactured or distributed before the end of the year.
Discussing the plans, the prime minister evoked the Apollo space programme, describing the "giant collaborative effort" of this testing programme as a "moonshot", which could restore a more normal way of life even if a vaccine or treatment is not available.
A report in the BMJ said the UK has drawn up plans to carry out up to 10 million Covid-19 tests a day by early next year, at a cost of more than £100bn.
But Dr Chaand Nagpaul, council chairman of the BMA, said it was unclear how the "moonshot" testing would work given the "huge problems" currently seen with lab capacity.
The Department of Health declined to comment directly on the report, but said it wanted to boost the number of tests with a rapid turnaround time.